Thực ra là chẳng biết đặt tên nó là cái gì nữa... vì là đang phải tìm cách giải quyết nốt chỗ kem bơ được "khuyến mại" nên tôi cứ ào ào, thành phẩm tuyệt hơn tưởng tượng lắm.
Công thức:
2 trứng lớn
50g bột mỳ
20g bột ngô
30g đường (vì kem bơ đã ngọt lắm rồi. Nếu dùng bơ thường thì là 60g đường)
30g kem bơ (không thì bơ mềm, thật là mềm vào)
2tsp sữa tươi
1/2 tsp baking powder
1/4tsp cream of tarta
1/2 tsp vanilla
Cách làm:
- Bật lò 170 độ.
- Lòng trắng trứng đánh bông với cream of tarta trong 4 phút. Từ từ cho đường vào đánh cho bông cứng (thêm 3 phút nữa).
- Cho từng lòng đỏ vào đánh (2 phút).
- Máy vẫn chạy, từ từ đổ bột mỳ+ bột ngô+ bột nở đã rây đều vào.
- Khi bột đã quện, cho bơ vào. Cuối cùng là sữa và vani.
- Chống dính khuôn. Múc từng thìa bột vào khuôn.
- Nướng 170 độ trong 20 phút (vì hh bột hơi ướt nên nướng lâu chút thì bánh mới chín tận trong).
- Bánh rất mềm, thơm bơ và xốp.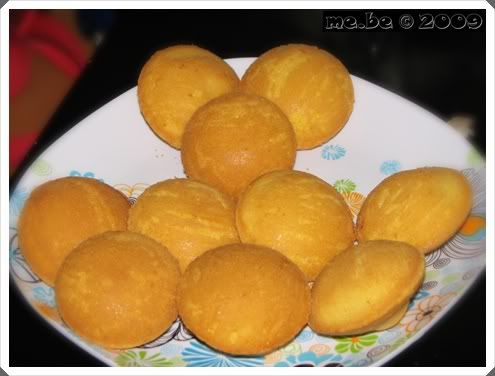 Khoác cho các em cái áo